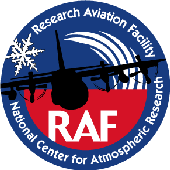 Project #2002-112 IDEAS Phase 2

Instrument Development and Education in Airborne Science

J. Stith, et al.

NSF/NCAR C-130Q Hercules (N130AR)

---

Documentation Summary
---
More information on the IDEAS project can be found at RAF's IDEAS home page.
This site contains the final documentation for the airborne measurements obtained from the NSF/NCAR C-130Q Hercules (N130AR) during Phase 2 of the "Instrument Development and Education in Airborne Science" (IDEAS) project. This field campaign took place from 3 October to 1 November 2002. (A special test flight also occurred on 17 December 2002.)
The Low-Rate (LRT, 1 sample per second) production data set is available on-line at the URL:
http://www.eol.ucar.edu/raf/Catalog/taplog.lrt.112.html.
If this access method is unacceptable, data orders may be directed to the RAF Data Manager, Ron Ruth, phone: (303)497-1084. Access is also possible through individual scientist accounts with the NCAR Scientific Computing Division.
Please note that this data set has place-holders for the processed RDMA measurements, but they are not yet available. We will announce when they are ready, and the files will be updated.
Software for viewing the Low-Rate data is available from the RAF. Please consult the RAF Software Product Guide for more information on available RAF data-perusal programs.
As you proceed with the analysis of RAF's C-130Q data system products, you may have questions, encounter problems, or uncover discrepancies or other aspects of the data set that may be of interest to the RAF and other users. We ask that you bring these issues to the attention of the IDEAS project managers:
Dick Friesen
Allen Schanot, (303)497-1063
Jeffrey L. Stith, Ph.D., (303)497-1032
Manager, Research Aviation Facility
Principal Investigator
FAX phone number: (303)497-1092

Mail address:

National Center for Atmospheric Research
EOL/Research Aviation Facility
P.O. Box 3000
Boulder, CO 80307-3000
U.S.A.
---
---
RAF's IDEAS Home Page | RAF Home Page | EOL Home Page | NCAR Home Page
Feedback
---
Last update: Tue May 6 13:38:06 MDT 2003