Reference Site Documentation Home
||
Reference Site Data Gateway
||
CEOP DM Home
||
CEOP Home
Regional Hydroclimate Project:
CEOP_AP

Contains reference sites that are part of MAHASRI (Monsoon Asian Hydro-Atmosphere Scientific Research and Prediction Initiative) as well as additional sites. Some of the reference sites were formerly part of CAMP (CEOP Asian Monsoon Project).
Reference Site(s) Included:
Contact Information:
Name: Dr. Toshio Koike
Affiliation:

Department of Civil Engineering, The University of Tokyo

Address:

7-3-1, Hongo, Bunkyo-ku, Tokyo, 113-8656, Japan

E-mail:tkoike@hydra.t.u-tokyo.ac.jp
Telephone: +81-3-5841-6105
Fax: +81-3-5841-6130
Associated Web Sites:
Regional Hydroclimate Project Maps and Google Earth Files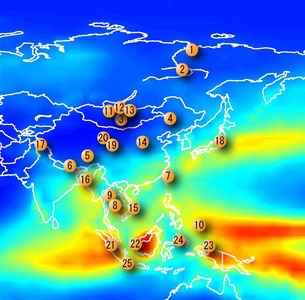 Click map for full resolution image.
Google Earth .kmz file of CEOP_AP Reference Sites, stations and radiosonde locations
Regional Hydroclimate Project Presentations:

September 2008 - Geneva, Switzerland
September 2007 - Bali, Indonesia
March 2007 - Washington, DC, USA
February 2006 - Paris, France
March 2004 - Irvine, CA, USA
March/April 2003 - Berlin, Germany
March 2002 - Tokyo, Japan
Regional Hydroclimate Project Data Sets and Documentation: