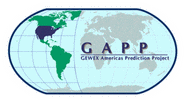 GEWEX Americas Prediction Project (GAPP) 2004 PIs Meeting
30-31 August 2004 at the Millennium Harvest House in Boulder, Colorado
The 2004 GAPP PIs Meeting was held 30-31 August at the Millennium Harvest House located in Boulder, Colorado.
The purpose of the 2004 GAPP PIs Meeting was 1) to review progress to date and share ideas on future research directions; 2) to discuss the newly completed GAPP Science and Implementation Plan (1 June 2004); and 3) to discuss the strategies to more efficiently infuse GAPP science into NOAA operations and to support NASA missions.
All PIs presentations were posters. PIs are encouraged to send the key research results to program managers in PowerPoint files.
Submitted Abstracts
Participants
Agenda and Presentations
Sunday 29 August Monday 30 August Morning Monday 30 August Afternoon Tuesday 31 August Morning Tuesday 31 August Afternoon
Boulder Information
Local Logistics Contact
Jill Reisdorf
Meeting Planner
UCAR-Joint Office for Science Support
Ph: 303-497-8636
Fx: 303-497-8633
reisdorf@ucar.edu

Program Contact